If you want to have great skin and beautiful hair, why not try a beauty detox.  A green smoothie is one way that you can use a detox plan to help yourself look better. And not only will you look better, but you'll get a boost in energy and you can even lose weight, if that's your goal.
Green Smoothies For Detoxing
One of the reasons that green smoothies are one of the most popular methods of detoxing is because they're healthy, easy to make, convenient to take along with you  … and they taste pretty good.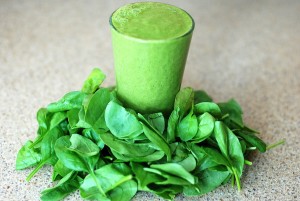 Because green smoothies are packed with much-needed nutrients, they're great at helping fight against the effects of aging. When you drink a green smoothie, you get a ton of dark green leafy vegetables.
It's here that you gain all of the vitamins and minerals, including the all important amino acids that help your body get its energy as well as aid your body in keeping your muscles strong and healthy.
There's another great thing about a beauty detox. A green smoothie can pack a better nutritional punch than if you were to eat the vegetables rather than blending them. That's because you get more of the nutrients from the vegetables when they're in smoothie form than you do in their whole food state.
Making Your Beauty Detox Smoothie
You'll need some spinach, about ½ to ¾ of a regular sized bunch. You'll also need 3 stalks of chopped celery and about ½ to ¾ of a head of a romaine lettuce cut in small pieces for the blender.
There are two to three fruits that you can use in a green smoothie. The most popular recipe calls for 1 small banana, a small apple and a small pear. Cut all in slices and remove the seeds.
You'll also want to either use either ½ a lemon without seeds or the equivalent in juice from the lemon. Make sure that the ingredients that you use are all organic. Put the vegetables in the blender with at least 2 cups of water and blend well. Once that's blended, add the fruits, blend again and you're done. You'll end up with a delicious beauty detox!
When you make the smoothie, it's best to make all that you need for a day at once. So you can have a glass ready whenever you need one.  (By the way, vegetable smoothies can stay fresh a lot longer than smoothies that are made solely with fruits.)
Taking It Slow
It's best to start out by drinking an 8 ounce glass of green smoothie at a time, and then slowing increasing the amount that you drink.
Because green vegetables work to cleanse out your digestive system, it might make you a little uncomfortable if you have a lot of it at once. So take take your time and slowly build up to drinking more of this healthy, delicious green smoothie beauty detox.