Essential oils have become very popular for natural healing and wellness, but what exactly is an essential oil? When you learn more about these powerful substances you'll want to give them a try.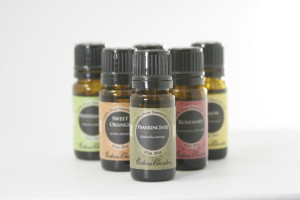 Essential oils are the natural oils that plants contain. They have the smell of the plant and they also contain a concentration of the antioxidants, vitamins, and minerals that are part of the plant.
A plant contains only a small amount of this oil, but through a process known as distillation the oils can be extracted so that you get the power of many plants in just a few drops.  This is different from a plant extract.
Essential Oils vs Plant Extracts
Plant extracts are usually made from adding a plant to a solution of alcohol and leaving it for days to even months. The alcohol pulls some of the chemicals and oils from the plant.
These are commonly used for cooking. For example, vanilla and peppermint extracts are used for flavoring all kinds of baked goods. But these are primarily made of alcohol rather than the oil from the plant.
Essential oils contain only the pure oil from the plant without any dilution. Essential oils are so concentrated that you generally need to dilute them before adding them to your skin. Just a few drops of essential oil can provide a powerful medicinal effect.
Essential oils can help to:
fight off infections
reduce inflammation in your body
treat pain
help you to improve your mood
There are many ways to use these oils to get the effects you need.  You can even use them to create natural cleaning products.
When you use essential oils you can avoid many of the toxic chemicals found in pharmaceuticals and in hazardous cleaning products while maintaining good health.
Adding essential oils to your life can help you to prevent disease and even treat disease that you're already experiencing.
If you're interested in improving your health naturally, essential oils are the perfect addition to your routine. Essential oils can be applied to your skin where they'll be absorbed and travel through your bloodstream.
They can also be inhaled through a diffuser, added to compresses, and even taken internally in some cases. However, if you choose to use them internally you should do so under the care of a professional.
When you begin using essential oils you'll see how powerful they are for fighting illness and improving wellness.